*STICKIED* PUG E A G L E
Hosting Times
.
All Times are Eastern Time
Monday - Thursday: 5pm - 10pm (Times Subject To Change)
Friday - Sunday: 1pm - 5am (Times Subject To Change)
Lobby Status:Closed
We Are Now Closed But Are Still Taking Payments For Our Next Lobby Tomorrow Afternoon At 12am Or 1pm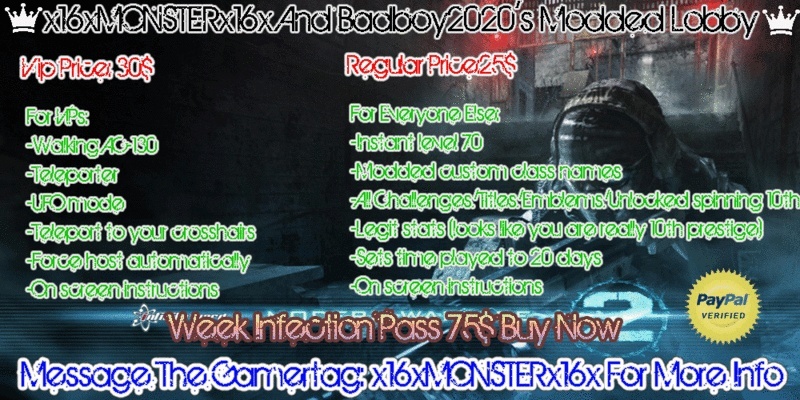 Lobby Includes :
(Everything Below)
**Infections Go Away When You Turn Off Your Xbox Or When You Go To The DashBoard**
Infections:
Aimbot
UAV Always On
Javelin Missile Martyrdom
Automatic Burst Weapons
Laser Sight
Super Steady Aim
Super Sleight Of Hand
Modded Heartbeat Sensor
Wall Hack
Multiple Explosives (2+ Explosives)
Nuke In Care Package
Invincible To Flash bangs
1 Skip To Vote A Map(If You Are Host)
Host Indicator
Force Host
Unlocks:
Spinning 10th Emblem
All Challenges
All Camos & Attachments
All Titles And Emblems
Modded Class Names
Leaderboard & Rank:
level 70 In One Kill
Instant Leaderboard Hack
Increased Play Time.
Paypal Instructions
Spoiler:

We only except Paypal, please don't not offer us XBL, MSP or iTunes Codes.

To pay follow these steps;

1. Log on to www.PayPal.com

2. Click the 'Send Money' tab at the top of the screen

4. Enter steveo3140@gmail.com in the box marked "To"

5. Enter either $25.00 or $15.00 [Depends what you are purchasing]in the box

6. Check/tick the 'Gift' option

7. Click Continue

8. Add your GamerTag And Desired Prestige,and I know there is no refund.

9. Click Send Money

We will then talk to you throughout the modding process via AIM Or Xbl
Add us on AIM x16x_monster_x16x@yahoo.com or MSN x16x_monster_x16x@hotmail.com

Renting Prices
Spoiler:

1 Hour: 70$
2 Hours: 140$
3 Hours: 210$
Full Kv: 300$
FAQ
Spoiler:

Q - Can I change my emblem to a different one and then change back to the spinning skull?
A - Yes, the emblem is unlocked on the 4th page and can be switched to at any time.

Q - How do I contact you?
A - Send me a PM here, or message me on aim x16x_monster_x16x@yahoo.com

Q - Want me to live stream for you?
A - No.

Q - Will you accept MSP/iTunes gift cards/Paypal accounts?
A - No

Q - Will you verify then i will pay!
A - No, dont ever ask that! that dosent even make sense!

Q - But what if we do it at the same time, plz i got scammed
A - NO! Why would i have the verification system if i did that!
Only £20/$25 Paypal

TRUSTED SELLER





Posts

: 6


Reputation

: 10003


Join date

: 2010-05-29


Age

: 21


Location

: Florida



GLOBAL MODERATOR





Posts

: 236


Reputation

: 369985


Join date

: 2010-05-16


Age

: 20


Location

: www.puglobbies.com



Eyy can i be like co-host cuz i can get LOTSSSSSSS of PPL in the lobby dat can pay for this.. just msg me on live sourpatch xx or my aim wavyykiddgeo

Admin





Posts

: 13


Reputation

: 10003


Join date

: 2010-05-17


Age

: 28





Similar topics
---
Permissions in this forum:
You
cannot
reply to topics in this forum